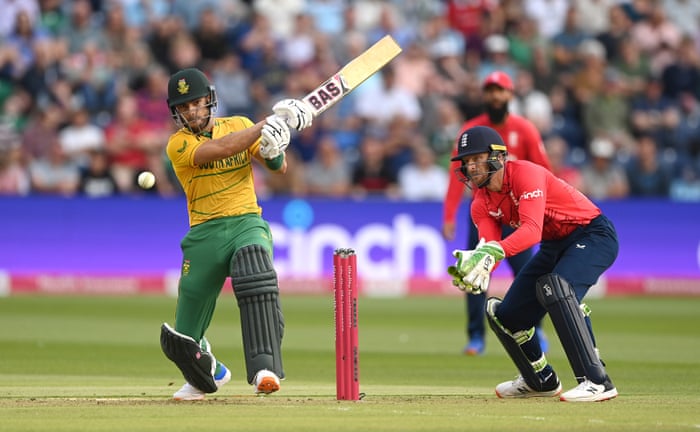 What a brilliant catch from Jonny Bairstow! Hendricks carted Gleeson towards deep backward square, where Bairstow took a very difficult two-handed catch over his shoulder and made sure he didn't overbalance and touch the boundary sponge. That was immaculately judged.

","elementId":"4a8134ee-8449-4318-8e10-abb9b70f1d3c"}],"attributes":{"pinned":false,"keyEvent":true,"abstract":false},"blockCreatedOn":1659032435000,"blockCreatedOnDisplay":"19.20 BST","blockLastUpdated":1659032527000,"blockLastUpdatedDisplay":"19.22 BST","blockFirstPublished":1659032527000,"blockFirstPublishedDisplay":"19.22 BST","blockFirstPublishedDisplayNoTimezone":"19.22″,"title":"WICKET! South Africa 112-2 (Hendricks c Bairstow b Gleeson 53)","contributors":[],"primaryDateLine":"Thu 28 Jul 2022 19.22 BST","secondaryDateLine":"First printed on Thu 28 Jul 2022 17.59 BST"},{"id":"62e2caee8f08730a1f7f3139″,"parts":[{"_type":"model.dotcomrendering.pageElements.TextBlockElement","html":"

Sound the match-up klaxon. Jos Buttler brings Moeen Ali on with the left-handed Quinton de Kock in mind, and de Kock obligingly clunks the fifth ball to mid-on.

","elementId":"18a0ff07-3fe2-4a04-9eae-10ec0ca21a37″},{"_type":"model.dotcomrendering.pageElements.ImageBlockElement","media":{"allImages":[{"index":0,"fields":{"height":"3048″,"width":"4632″},"mediaType":"Image","mimeType":"image/jpeg","url":"https://media.guim.co.uk/75a9b645a85d8cfdad603e12c6f1709fc7dc4adf/0_0_4632_3048/4632.jpg"},{"index":1,"fields":{"isMaster":"true","height":"3048″,"width":"4632″},"mediaType":"Image","mimeType":"image/jpeg","url":"https://media.guim.co.uk/75a9b645a85d8cfdad603e12c6f1709fc7dc4adf/0_0_4632_3048/master/4632.jpg"},{"index":2,"fields":{"height":"1316″,"width":"2000″},"mediaType":"Image","mimeType":"image/jpeg","url":"https://media.guim.co.uk/75a9b645a85d8cfdad603e12c6f1709fc7dc4adf/0_0_4632_3048/2000.jpg"},{"index":3,"fields":{"height":"658″,"width":"1000″},"mediaType":"Image","mimeType":"image/jpeg","url":"https://media.guim.co.uk/75a9b645a85d8cfdad603e12c6f1709fc7dc4adf/0_0_4632_3048/1000.jpg"},{"index":4,"fields":{"height":"329″,"width":"500″},"mediaType":"Image","mimeType":"image/jpeg","url":"https://media.guim.co.uk/75a9b645a85d8cfdad603e12c6f1709fc7dc4adf/0_0_4632_3048/500.jpg"},{"index":5,"fields":{"height":"92″,"width":"140″},"mediaType":"Image","mimeType":"image/jpeg","url":"https://media.guim.co.uk/75a9b645a85d8cfdad603e12c6f1709fc7dc4adf/0_0_4632_3048/140.jpg"}]},"knowledge":{"alt":"Quinton de Kock serves up a dolly to Jason Roy at mid-on off the bowling of Moeen. Gone for 15.","caption":"Quinton de Kock serves up a dolly to Jason Roy at mid-on off the bowling of Moeen. Gone for 15.","credit score":"{Photograph}: Geoff Caddick/AFP/Getty Photos"},"displayCredit":true,"function":"inline","imageSources":[{"weighting":"inline","srcSet":[{"src":"https://i.guim.co.uk/img/media/75a9b645a85d8cfdad603e12c6f1709fc7dc4adf/0_0_4632_3048/master/4632.jpg?width=620&quality=85&auto=format&fit=max&s=0afd4cf10d5aa459b600382b34179241″,"width":620},{"src":"https://i.guim.co.uk/img/media/75a9b645a85d8cfdad603e12c6f1709fc7dc4adf/0_0_4632_3048/master/4632.jpg?width=620&quality=45&auto=format&fit=max&dpr=2&s=e7815130c7c18b746f1f26c47211b69a","width":1240},{"src":"https://i.guim.co.uk/img/media/75a9b645a85d8cfdad603e12c6f1709fc7dc4adf/0_0_4632_3048/master/4632.jpg?width=605&quality=85&auto=format&fit=max&s=6fe06db12d3acdc760b4f1265ef15e73″,"width":605},{"src":"https://i.guim.co.uk/img/media/75a9b645a85d8cfdad603e12c6f1709fc7dc4adf/0_0_4632_3048/master/4632.jpg?width=605&quality=45&auto=format&fit=max&dpr=2&s=7c78c6c7310a555f5060640e6f3eb46f","width":1210},{"src":"https://i.guim.co.uk/img/media/75a9b645a85d8cfdad603e12c6f1709fc7dc4adf/0_0_4632_3048/master/4632.jpg?width=445&quality=85&auto=format&fit=max&s=cc1aad828821e02122a4eeca0fae2f5e","width":445},{"src":"https://i.guim.co.uk/img/media/75a9b645a85d8cfdad603e12c6f1709fc7dc4adf/0_0_4632_3048/master/4632.jpg?width=445&quality=45&auto=format&fit=max&dpr=2&s=ad86019ae397a685ffd0212627db7cc5″,"width":890}]},{"weighting":"thumbnail","srcSet":[{"src":"https://i.guim.co.uk/img/media/75a9b645a85d8cfdad603e12c6f1709fc7dc4adf/0_0_4632_3048/master/4632.jpg?width=140&quality=85&auto=format&fit=max&s=88d607391cdb3cc9173372a761e384b1″,"width":140},{"src":"https://i.guim.co.uk/img/media/75a9b645a85d8cfdad603e12c6f1709fc7dc4adf/0_0_4632_3048/master/4632.jpg?width=140&quality=45&auto=format&fit=max&dpr=2&s=b29cf5719df5e3a5c77fd7f93ff36f5c","width":280},{"src":"https://i.guim.co.uk/img/media/75a9b645a85d8cfdad603e12c6f1709fc7dc4adf/0_0_4632_3048/master/4632.jpg?width=120&quality=85&auto=format&fit=max&s=866efc1a045ac35301543c4e876dc5ca","width":120},{"src":"https://i.guim.co.uk/img/media/75a9b645a85d8cfdad603e12c6f1709fc7dc4adf/0_0_4632_3048/master/4632.jpg?width=120&quality=45&auto=format&fit=max&dpr=2&s=e51e7f7b612d8dbc3705437b7fb5d648″,"width":240}]},{"weighting":"supporting","srcSet":[{"src":"https://i.guim.co.uk/img/media/75a9b645a85d8cfdad603e12c6f1709fc7dc4adf/0_0_4632_3048/master/4632.jpg?width=380&quality=85&auto=format&fit=max&s=2f4169b0683fb1d367bb2f870abe49ba","width":380},{"src":"https://i.guim.co.uk/img/media/75a9b645a85d8cfdad603e12c6f1709fc7dc4adf/0_0_4632_3048/master/4632.jpg?width=380&quality=45&auto=format&fit=max&dpr=2&s=b14cec82df12026614ef0f0b40289a2a","width":760},{"src":"https://i.guim.co.uk/img/media/75a9b645a85d8cfdad603e12c6f1709fc7dc4adf/0_0_4632_3048/master/4632.jpg?width=300&quality=85&auto=format&fit=max&s=0cb78b42d32cd365cdb7eb641a48f734″,"width":300},{"src":"https://i.guim.co.uk/img/media/75a9b645a85d8cfdad603e12c6f1709fc7dc4adf/0_0_4632_3048/master/4632.jpg?width=300&quality=45&auto=format&fit=max&dpr=2&s=08fa650df61d1b3e2612515462869cf1″,"width":600},{"src":"https://i.guim.co.uk/img/media/75a9b645a85d8cfdad603e12c6f1709fc7dc4adf/0_0_4632_3048/master/4632.jpg?width=620&quality=85&auto=format&fit=max&s=0afd4cf10d5aa459b600382b34179241″,"width":620},{"src":"https://i.guim.co.uk/img/media/75a9b645a85d8cfdad603e12c6f1709fc7dc4adf/0_0_4632_3048/master/4632.jpg?width=620&quality=45&auto=format&fit=max&dpr=2&s=e7815130c7c18b746f1f26c47211b69a","width":1240},{"src":"https://i.guim.co.uk/img/media/75a9b645a85d8cfdad603e12c6f1709fc7dc4adf/0_0_4632_3048/master/4632.jpg?width=605&quality=85&auto=format&fit=max&s=6fe06db12d3acdc760b4f1265ef15e73″,"width":605},{"src":"https://i.guim.co.uk/img/media/75a9b645a85d8cfdad603e12c6f1709fc7dc4adf/0_0_4632_3048/master/4632.jpg?width=605&quality=45&auto=format&fit=max&dpr=2&s=7c78c6c7310a555f5060640e6f3eb46f","width":1210},{"src":"https://i.guim.co.uk/img/media/75a9b645a85d8cfdad603e12c6f1709fc7dc4adf/0_0_4632_3048/master/4632.jpg?width=445&quality=85&auto=format&fit=max&s=cc1aad828821e02122a4eeca0fae2f5e","width":445},{"src":"https://i.guim.co.uk/img/media/75a9b645a85d8cfdad603e12c6f1709fc7dc4adf/0_0_4632_3048/master/4632.jpg?width=445&quality=45&auto=format&fit=max&dpr=2&s=ad86019ae397a685ffd0212627db7cc5″,"width":890}]},{"weighting":"showcase","srcSet":[{"src":"https://i.guim.co.uk/img/media/75a9b645a85d8cfdad603e12c6f1709fc7dc4adf/0_0_4632_3048/master/4632.jpg?width=860&quality=85&auto=format&fit=max&s=cec3c58983817b1f47737401ea9b9633″,"width":860},{"src":"https://i.guim.co.uk/img/media/75a9b645a85d8cfdad603e12c6f1709fc7dc4adf/0_0_4632_3048/master/4632.jpg?width=860&quality=45&auto=format&fit=max&dpr=2&s=f1dc550c4a40430927fa501d2a15ce46″,"width":1720},{"src":"https://i.guim.co.uk/img/media/75a9b645a85d8cfdad603e12c6f1709fc7dc4adf/0_0_4632_3048/master/4632.jpg?width=780&quality=85&auto=format&fit=max&s=c7ff499d60e6354b44fd2b2576a09354″,"width":780},{"src":"https://i.guim.co.uk/img/media/75a9b645a85d8cfdad603e12c6f1709fc7dc4adf/0_0_4632_3048/master/4632.jpg?width=780&quality=45&auto=format&fit=max&dpr=2&s=e600443a3fc3b0a2a4639423d326fa4b","width":1560},{"src":"https://i.guim.co.uk/img/media/75a9b645a85d8cfdad603e12c6f1709fc7dc4adf/0_0_4632_3048/master/4632.jpg?width=620&quality=85&auto=format&fit=max&s=0afd4cf10d5aa459b600382b34179241″,"width":620},{"src":"https://i.guim.co.uk/img/media/75a9b645a85d8cfdad603e12c6f1709fc7dc4adf/0_0_4632_3048/master/4632.jpg?width=620&quality=45&auto=format&fit=max&dpr=2&s=e7815130c7c18b746f1f26c47211b69a","width":1240},{"src":"https://i.guim.co.uk/img/media/75a9b645a85d8cfdad603e12c6f1709fc7dc4adf/0_0_4632_3048/master/4632.jpg?width=605&quality=85&auto=format&fit=max&s=6fe06db12d3acdc760b4f1265ef15e73″,"width":605},{"src":"https://i.guim.co.uk/img/media/75a9b645a85d8cfdad603e12c6f1709fc7dc4adf/0_0_4632_3048/master/4632.jpg?width=605&quality=45&auto=format&fit=max&dpr=2&s=7c78c6c7310a555f5060640e6f3eb46f","width":1210},{"src":"https://i.guim.co.uk/img/media/75a9b645a85d8cfdad603e12c6f1709fc7dc4adf/0_0_4632_3048/master/4632.jpg?width=445&quality=85&auto=format&fit=max&s=cc1aad828821e02122a4eeca0fae2f5e","width":445},{"src":"https://i.guim.co.uk/img/media/75a9b645a85d8cfdad603e12c6f1709fc7dc4adf/0_0_4632_3048/master/4632.jpg?width=445&quality=45&auto=format&fit=max&dpr=2&s=ad86019ae397a685ffd0212627db7cc5″,"width":890}]},{"weighting":"halfwidth","srcSet":[{"src":"https://i.guim.co.uk/img/media/75a9b645a85d8cfdad603e12c6f1709fc7dc4adf/0_0_4632_3048/master/4632.jpg?width=620&quality=85&auto=format&fit=max&s=0afd4cf10d5aa459b600382b34179241″,"width":620},{"src":"https://i.guim.co.uk/img/media/75a9b645a85d8cfdad603e12c6f1709fc7dc4adf/0_0_4632_3048/master/4632.jpg?width=620&quality=45&auto=format&fit=max&dpr=2&s=e7815130c7c18b746f1f26c47211b69a","width":1240},{"src":"https://i.guim.co.uk/img/media/75a9b645a85d8cfdad603e12c6f1709fc7dc4adf/0_0_4632_3048/master/4632.jpg?width=605&quality=85&auto=format&fit=max&s=6fe06db12d3acdc760b4f1265ef15e73″,"width":605},{"src":"https://i.guim.co.uk/img/media/75a9b645a85d8cfdad603e12c6f1709fc7dc4adf/0_0_4632_3048/master/4632.jpg?width=605&quality=45&auto=format&fit=max&dpr=2&s=7c78c6c7310a555f5060640e6f3eb46f","width":1210},{"src":"https://i.guim.co.uk/img/media/75a9b645a85d8cfdad603e12c6f1709fc7dc4adf/0_0_4632_3048/master/4632.jpg?width=445&quality=85&auto=format&fit=max&s=cc1aad828821e02122a4eeca0fae2f5e","width":445},{"src":"https://i.guim.co.uk/img/media/75a9b645a85d8cfdad603e12c6f1709fc7dc4adf/0_0_4632_3048/master/4632.jpg?width=445&quality=45&auto=format&fit=max&dpr=2&s=ad86019ae397a685ffd0212627db7cc5″,"width":890}]},{"weighting":"immersive","srcSet":[{"src":"https://i.guim.co.uk/img/media/75a9b645a85d8cfdad603e12c6f1709fc7dc4adf/0_0_4632_3048/master/4632.jpg?width=1900&quality=85&auto=format&fit=max&s=dd8568bbfef12ed817e4d0c55c062bf4″,"width":1900},{"src":"https://i.guim.co.uk/img/media/75a9b645a85d8cfdad603e12c6f1709fc7dc4adf/0_0_4632_3048/master/4632.jpg?width=1900&quality=45&auto=format&fit=max&dpr=2&s=ddbc57d1652874809dd6e0572c9563d7″,"width":3800},{"src":"https://i.guim.co.uk/img/media/75a9b645a85d8cfdad603e12c6f1709fc7dc4adf/0_0_4632_3048/master/4632.jpg?width=1300&quality=85&auto=format&fit=max&s=2d26bcffd0b28af52c311a33b0cf37c1″,"width":1300},{"src":"https://i.guim.co.uk/img/media/75a9b645a85d8cfdad603e12c6f1709fc7dc4adf/0_0_4632_3048/master/4632.jpg?width=1300&quality=45&auto=format&fit=max&dpr=2&s=93d6f21ce2e0754cdce49d0ebadcf069″,"width":2600},{"src":"https://i.guim.co.uk/img/media/75a9b645a85d8cfdad603e12c6f1709fc7dc4adf/0_0_4632_3048/master/4632.jpg?width=1140&quality=85&auto=format&fit=max&s=3c009ef9617c9a654099f459fa029a04″,"width":1140},{"src":"https://i.guim.co.uk/img/media/75a9b645a85d8cfdad603e12c6f1709fc7dc4adf/0_0_4632_3048/master/4632.jpg?width=1140&quality=45&auto=format&fit=max&dpr=2&s=711c4438976af16ff3aa5ded905e417a","width":2280},{"src":"https://i.guim.co.uk/img/media/75a9b645a85d8cfdad603e12c6f1709fc7dc4adf/0_0_4632_3048/master/4632.jpg?width=980&quality=85&auto=format&fit=max&s=9a8155fbb480298efd4417798dc3ddff","width":980},{"src":"https://i.guim.co.uk/img/media/75a9b645a85d8cfdad603e12c6f1709fc7dc4adf/0_0_4632_3048/master/4632.jpg?width=980&quality=45&auto=format&fit=max&dpr=2&s=ce69b5e3f3b54a47b64faefd55c3dd7f","width":1960},{"src":"https://i.guim.co.uk/img/media/75a9b645a85d8cfdad603e12c6f1709fc7dc4adf/0_0_4632_3048/master/4632.jpg?width=740&quality=85&auto=format&fit=max&s=887ae733aeb53e8a40fdf434a77f65b0″,"width":740},{"src":"https://i.guim.co.uk/img/media/75a9b645a85d8cfdad603e12c6f1709fc7dc4adf/0_0_4632_3048/master/4632.jpg?width=740&quality=45&auto=format&fit=max&dpr=2&s=0162c2e5d3c418fff4ebc6ea550cf3dd","width":1480},{"src":"https://i.guim.co.uk/img/media/75a9b645a85d8cfdad603e12c6f1709fc7dc4adf/0_0_4632_3048/master/4632.jpg?width=660&quality=85&auto=format&fit=max&s=9105044baca5e8ecd1120cfccf49db72″,"width":660},{"src":"https://i.guim.co.uk/img/media/75a9b645a85d8cfdad603e12c6f1709fc7dc4adf/0_0_4632_3048/master/4632.jpg?width=660&quality=45&auto=format&fit=max&dpr=2&s=ab2a03a1f9b74adc03f548462633575f","width":1320},{"src":"https://i.guim.co.uk/img/media/75a9b645a85d8cfdad603e12c6f1709fc7dc4adf/0_0_4632_3048/master/4632.jpg?width=480&quality=85&auto=format&fit=max&s=c6487a3d7e6e249b29dbaeb6bf622335″,"width":480},{"src":"https://i.guim.co.uk/img/media/75a9b645a85d8cfdad603e12c6f1709fc7dc4adf/0_0_4632_3048/master/4632.jpg?width=480&quality=45&auto=format&fit=max&dpr=2&s=8e78983a600ef885190ff475c0dddc62″,"width":960}]}],"elementId":"870a5a7c-9529-487a-859e-e64baf7d859a"},{"_type":"mannequin.dotcomrendering.pageElements.ImageBlockElement","media":{"allImages":[{"index":0,"fields":{"height":"3064″,"width":"4653″},"mediaType":"Image","mimeType":"image/jpeg","url":"https://media.guim.co.uk/97748cc36d746b90038ac7985dd8a09dbf4787e6/0_0_4653_3064/4653.jpg"},{"index":1,"fields":{"isMaster":"true","height":"3064″,"width":"4653″},"mediaType":"Image","mimeType":"image/jpeg","url":"https://media.guim.co.uk/97748cc36d746b90038ac7985dd8a09dbf4787e6/0_0_4653_3064/master/4653.jpg"},{"index":2,"fields":{"height":"1317″,"width":"2000″},"mediaType":"Image","mimeType":"image/jpeg","url":"https://media.guim.co.uk/97748cc36d746b90038ac7985dd8a09dbf4787e6/0_0_4653_3064/2000.jpg"},{"index":3,"fields":{"height":"658″,"width":"1000″},"mediaType":"Image","mimeType":"image/jpeg","url":"https://media.guim.co.uk/97748cc36d746b90038ac7985dd8a09dbf4787e6/0_0_4653_3064/1000.jpg"},{"index":4,"fields":{"height":"329″,"width":"500″},"mediaType":"Image","mimeType":"image/jpeg","url":"https://media.guim.co.uk/97748cc36d746b90038ac7985dd8a09dbf4787e6/0_0_4653_3064/500.jpg"},{"index":5,"fields":{"height":"92″,"width":"140″},"mediaType":"Image","mimeType":"image/jpeg","url":"https://media.guim.co.uk/97748cc36d746b90038ac7985dd8a09dbf4787e6/0_0_4653_3064/140.jpg"}]},"knowledge":{"alt":"Moeen","credit score":"{Photograph}: James Marsh/Shutterstock"},"displayCredit":true,"function":"inline","imageSources":[{"weighting":"inline","srcSet":[{"src":"https://i.guim.co.uk/img/media/97748cc36d746b90038ac7985dd8a09dbf4787e6/0_0_4653_3064/master/4653.jpg?width=620&quality=85&auto=format&fit=max&s=886e0119311eeee8fe142cafb3a51ef5″,"width":620},{"src":"https://i.guim.co.uk/img/media/97748cc36d746b90038ac7985dd8a09dbf4787e6/0_0_4653_3064/master/4653.jpg?width=620&quality=45&auto=format&fit=max&dpr=2&s=63c7bfb96e386e2ae43f84f817bb3191″,"width":1240},{"src":"https://i.guim.co.uk/img/media/97748cc36d746b90038ac7985dd8a09dbf4787e6/0_0_4653_3064/master/4653.jpg?width=605&quality=85&auto=format&fit=max&s=fe2f46c3a3f17ef90efc0ba8b17f2c83″,"width":605},{"src":"https://i.guim.co.uk/img/media/97748cc36d746b90038ac7985dd8a09dbf4787e6/0_0_4653_3064/master/4653.jpg?width=605&quality=45&auto=format&fit=max&dpr=2&s=29173a79a2a8d2407e5eeb796ca0c9eb","width":1210},{"src":"https://i.guim.co.uk/img/media/97748cc36d746b90038ac7985dd8a09dbf4787e6/0_0_4653_3064/master/4653.jpg?width=445&quality=85&auto=format&fit=max&s=cb2405c5371215917913aa6cbd31d498″,"width":445},{"src":"https://i.guim.co.uk/img/media/97748cc36d746b90038ac7985dd8a09dbf4787e6/0_0_4653_3064/master/4653.jpg?width=445&quality=45&auto=format&fit=max&dpr=2&s=fa16241b0cb4ee349b96358a6d7aca12″,"width":890}]},{"weighting":"thumbnail","srcSet":[{"src":"https://i.guim.co.uk/img/media/97748cc36d746b90038ac7985dd8a09dbf4787e6/0_0_4653_3064/master/4653.jpg?width=140&quality=85&auto=format&fit=max&s=3147db242cee4efdac1acfcff1c0d11c","width":140},{"src":"https://i.guim.co.uk/img/media/97748cc36d746b90038ac7985dd8a09dbf4787e6/0_0_4653_3064/master/4653.jpg?width=140&quality=45&auto=format&fit=max&dpr=2&s=078029feab035a4b99f9c3422f46e64b","width":280},{"src":"https://i.guim.co.uk/img/media/97748cc36d746b90038ac7985dd8a09dbf4787e6/0_0_4653_3064/master/4653.jpg?width=120&quality=85&auto=format&fit=max&s=4d9539e2bf28614c973c6ec382ff241f","width":120},{"src":"https://i.guim.co.uk/img/media/97748cc36d746b90038ac7985dd8a09dbf4787e6/0_0_4653_3064/master/4653.jpg?width=120&quality=45&auto=format&fit=max&dpr=2&s=42f5fe65e035eb6b5b1f47d5f5e7cc49″,"width":240}]},{"weighting":"supporting","srcSet":[{"src":"https://i.guim.co.uk/img/media/97748cc36d746b90038ac7985dd8a09dbf4787e6/0_0_4653_3064/master/4653.jpg?width=380&quality=85&auto=format&fit=max&s=ad450bec55b394b1b36d5e8326488101″,"width":380},{"src":"https://i.guim.co.uk/img/media/97748cc36d746b90038ac7985dd8a09dbf4787e6/0_0_4653_3064/master/4653.jpg?width=380&quality=45&auto=format&fit=max&dpr=2&s=fb725de76ee25bfa64395b56ef053e30″,"width":760},{"src":"https://i.guim.co.uk/img/media/97748cc36d746b90038ac7985dd8a09dbf4787e6/0_0_4653_3064/master/4653.jpg?width=300&quality=85&auto=format&fit=max&s=c586f8a5a5b7110e0374bda64cf95f27″,"width":300},{"src":"https://i.guim.co.uk/img/media/97748cc36d746b90038ac7985dd8a09dbf4787e6/0_0_4653_3064/master/4653.jpg?width=300&quality=45&auto=format&fit=max&dpr=2&s=006838756ff6b7e95d50ccfa0e2214a7″,"width":600},{"src":"https://i.guim.co.uk/img/media/97748cc36d746b90038ac7985dd8a09dbf4787e6/0_0_4653_3064/master/4653.jpg?width=620&quality=85&auto=format&fit=max&s=886e0119311eeee8fe142cafb3a51ef5″,"width":620},{"src":"https://i.guim.co.uk/img/media/97748cc36d746b90038ac7985dd8a09dbf4787e6/0_0_4653_3064/master/4653.jpg?width=620&quality=45&auto=format&fit=max&dpr=2&s=63c7bfb96e386e2ae43f84f817bb3191″,"width":1240},{"src":"https://i.guim.co.uk/img/media/97748cc36d746b90038ac7985dd8a09dbf4787e6/0_0_4653_3064/master/4653.jpg?width=605&quality=85&auto=format&fit=max&s=fe2f46c3a3f17ef90efc0ba8b17f2c83″,"width":605},{"src":"https://i.guim.co.uk/img/media/97748cc36d746b90038ac7985dd8a09dbf4787e6/0_0_4653_3064/master/4653.jpg?width=605&quality=45&auto=format&fit=max&dpr=2&s=29173a79a2a8d2407e5eeb796ca0c9eb","width":1210},{"src":"https://i.guim.co.uk/img/media/97748cc36d746b90038ac7985dd8a09dbf4787e6/0_0_4653_3064/master/4653.jpg?width=445&quality=85&auto=format&fit=max&s=cb2405c5371215917913aa6cbd31d498″,"width":445},{"src":"https://i.guim.co.uk/img/media/97748cc36d746b90038ac7985dd8a09dbf4787e6/0_0_4653_3064/master/4653.jpg?width=445&quality=45&auto=format&fit=max&dpr=2&s=fa16241b0cb4ee349b96358a6d7aca12″,"width":890}]},{"weighting":"showcase","srcSet":[{"src":"https://i.guim.co.uk/img/media/97748cc36d746b90038ac7985dd8a09dbf4787e6/0_0_4653_3064/master/4653.jpg?width=860&quality=85&auto=format&fit=max&s=56062cabad5871daa9c2c8c1722a6738″,"width":860},{"src":"https://i.guim.co.uk/img/media/97748cc36d746b90038ac7985dd8a09dbf4787e6/0_0_4653_3064/master/4653.jpg?width=860&quality=45&auto=format&fit=max&dpr=2&s=27c36b0866f84dd84f88802a47fe13d7″,"width":1720},{"src":"https://i.guim.co.uk/img/media/97748cc36d746b90038ac7985dd8a09dbf4787e6/0_0_4653_3064/master/4653.jpg?width=780&quality=85&auto=format&fit=max&s=9ba10d523aca1b8c49f62234280b1072″,"width":780},{"src":"https://i.guim.co.uk/img/media/97748cc36d746b90038ac7985dd8a09dbf4787e6/0_0_4653_3064/master/4653.jpg?width=780&quality=45&auto=format&fit=max&dpr=2&s=f23f23f1653e3ea603093e6e3c165e0e","width":1560},{"src":"https://i.guim.co.uk/img/media/97748cc36d746b90038ac7985dd8a09dbf4787e6/0_0_4653_3064/master/4653.jpg?width=620&quality=85&auto=format&fit=max&s=886e0119311eeee8fe142cafb3a51ef5″,"width":620},{"src":"https://i.guim.co.uk/img/media/97748cc36d746b90038ac7985dd8a09dbf4787e6/0_0_4653_3064/master/4653.jpg?width=620&quality=45&auto=format&fit=max&dpr=2&s=63c7bfb96e386e2ae43f84f817bb3191″,"width":1240},{"src":"https://i.guim.co.uk/img/media/97748cc36d746b90038ac7985dd8a09dbf4787e6/0_0_4653_3064/master/4653.jpg?width=605&quality=85&auto=format&fit=max&s=fe2f46c3a3f17ef90efc0ba8b17f2c83″,"width":605},{"src":"https://i.guim.co.uk/img/media/97748cc36d746b90038ac7985dd8a09dbf4787e6/0_0_4653_3064/master/4653.jpg?width=605&quality=45&auto=format&fit=max&dpr=2&s=29173a79a2a8d2407e5eeb796ca0c9eb","width":1210},{"src":"https://i.guim.co.uk/img/media/97748cc36d746b90038ac7985dd8a09dbf4787e6/0_0_4653_3064/master/4653.jpg?width=445&quality=85&auto=format&fit=max&s=cb2405c5371215917913aa6cbd31d498″,"width":445},{"src":"https://i.guim.co.uk/img/media/97748cc36d746b90038ac7985dd8a09dbf4787e6/0_0_4653_3064/master/4653.jpg?width=445&quality=45&auto=format&fit=max&dpr=2&s=fa16241b0cb4ee349b96358a6d7aca12″,"width":890}]},{"weighting":"halfwidth","srcSet":[{"src":"https://i.guim.co.uk/img/media/97748cc36d746b90038ac7985dd8a09dbf4787e6/0_0_4653_3064/master/4653.jpg?width=620&quality=85&auto=format&fit=max&s=886e0119311eeee8fe142cafb3a51ef5″,"width":620},{"src":"https://i.guim.co.uk/img/media/97748cc36d746b90038ac7985dd8a09dbf4787e6/0_0_4653_3064/master/4653.jpg?width=620&quality=45&auto=format&fit=max&dpr=2&s=63c7bfb96e386e2ae43f84f817bb3191″,"width":1240},{"src":"https://i.guim.co.uk/img/media/97748cc36d746b90038ac7985dd8a09dbf4787e6/0_0_4653_3064/master/4653.jpg?width=605&quality=85&auto=format&fit=max&s=fe2f46c3a3f17ef90efc0ba8b17f2c83″,"width":605},{"src":"https://i.guim.co.uk/img/media/97748cc36d746b90038ac7985dd8a09dbf4787e6/0_0_4653_3064/master/4653.jpg?width=605&quality=45&auto=format&fit=max&dpr=2&s=29173a79a2a8d2407e5eeb796ca0c9eb","width":1210},{"src":"https://i.guim.co.uk/img/media/97748cc36d746b90038ac7985dd8a09dbf4787e6/0_0_4653_3064/master/4653.jpg?width=445&quality=85&auto=format&fit=max&s=cb2405c5371215917913aa6cbd31d498″,"width":445},{"src":"https://i.guim.co.uk/img/media/97748cc36d746b90038ac7985dd8a09dbf4787e6/0_0_4653_3064/master/4653.jpg?width=445&quality=45&auto=format&fit=max&dpr=2&s=fa16241b0cb4ee349b96358a6d7aca12″,"width":890}]},{"weighting":"immersive","srcSet":[{"src":"https://i.guim.co.uk/img/media/97748cc36d746b90038ac7985dd8a09dbf4787e6/0_0_4653_3064/master/4653.jpg?width=1900&quality=85&auto=format&fit=max&s=ef8da8d545e22e9236d6bca9014bf141″,"width":1900},{"src":"https://i.guim.co.uk/img/media/97748cc36d746b90038ac7985dd8a09dbf4787e6/0_0_4653_3064/master/4653.jpg?width=1900&quality=45&auto=format&fit=max&dpr=2&s=94d410ab269494df3e4bf6fba6919445″,"width":3800},{"src":"https://i.guim.co.uk/img/media/97748cc36d746b90038ac7985dd8a09dbf4787e6/0_0_4653_3064/master/4653.jpg?width=1300&quality=85&auto=format&fit=max&s=f449f9786ec01cefa45ffb359f1592f9″,"width":1300},{"src":"https://i.guim.co.uk/img/media/97748cc36d746b90038ac7985dd8a09dbf4787e6/0_0_4653_3064/master/4653.jpg?width=1300&quality=45&auto=format&fit=max&dpr=2&s=879820e343db24665f8261908c648a6d","width":2600},{"src":"https://i.guim.co.uk/img/media/97748cc36d746b90038ac7985dd8a09dbf4787e6/0_0_4653_3064/master/4653.jpg?width=1140&quality=85&auto=format&fit=max&s=d8d096733243604af2308af7b07a8514″,"width":1140},{"src":"https://i.guim.co.uk/img/media/97748cc36d746b90038ac7985dd8a09dbf4787e6/0_0_4653_3064/master/4653.jpg?width=1140&quality=45&auto=format&fit=max&dpr=2&s=4bdaad0d22a6b553ace16d5a2c53871b","width":2280},{"src":"https://i.guim.co.uk/img/media/97748cc36d746b90038ac7985dd8a09dbf4787e6/0_0_4653_3064/master/4653.jpg?width=980&quality=85&auto=format&fit=max&s=1e37f0333749ff6e29a217fbd1d3685f","width":980},{"src":"https://i.guim.co.uk/img/media/97748cc36d746b90038ac7985dd8a09dbf4787e6/0_0_4653_3064/master/4653.jpg?width=980&quality=45&auto=format&fit=max&dpr=2&s=cd2e360c1e168438ceba91f7cb2fae14″,"width":1960},{"src":"https://i.guim.co.uk/img/media/97748cc36d746b90038ac7985dd8a09dbf4787e6/0_0_4653_3064/master/4653.jpg?width=740&quality=85&auto=format&fit=max&s=729f0f140098cf85eda8947419d6e223″,"width":740},{"src":"https://i.guim.co.uk/img/media/97748cc36d746b90038ac7985dd8a09dbf4787e6/0_0_4653_3064/master/4653.jpg?width=740&quality=45&auto=format&fit=max&dpr=2&s=57ee8d7e0bd1308314785a71914286f1″,"width":1480},{"src":"https://i.guim.co.uk/img/media/97748cc36d746b90038ac7985dd8a09dbf4787e6/0_0_4653_3064/master/4653.jpg?width=660&quality=85&auto=format&fit=max&s=049c2fad6b9a59c459215a06bacabbde","width":660},{"src":"https://i.guim.co.uk/img/media/97748cc36d746b90038ac7985dd8a09dbf4787e6/0_0_4653_3064/master/4653.jpg?width=660&quality=45&auto=format&fit=max&dpr=2&s=8705df6bdd81f970f1240f09832e4c2d","width":1320},{"src":"https://i.guim.co.uk/img/media/97748cc36d746b90038ac7985dd8a09dbf4787e6/0_0_4653_3064/master/4653.jpg?width=480&quality=85&auto=format&fit=max&s=e58f63c4d03e7dfa739d8db29f4f8f01″,"width":480},{"src":"https://i.guim.co.uk/img/media/97748cc36d746b90038ac7985dd8a09dbf4787e6/0_0_4653_3064/master/4653.jpg?width=480&quality=45&auto=format&fit=max&dpr=2&s=5f1f7f1a21bc85a4a6e67868c3832590″,"width":960}]}],"elementId":"bf56db9b-7830-4059-9f7e-732179a50a63″}],"attributes":{"pinned":false,"keyEvent":true,"abstract":false},"blockCreatedOn":1659030254000,"blockCreatedOnDisplay":"18.44 BST","blockLastUpdated":1659030925000,"blockLastUpdatedDisplay":"18.55 BST","blockFirstPublished":1659030415000,"blockFirstPublishedDisplay":"18.46 BST","blockFirstPublishedDisplayNoTimezone":"18.46″,"title":"WICKET! South Africa 39-1 (de Kock c Roy b Ali 15)","contributors":[],"primaryDateLine":"Thu 28 Jul 2022 19.22 BST","secondaryDateLine":"First printed on Thu 28 Jul 2022 17.59 BST"},{"id":"62e2c1188f08730a1f7f30bb","parts":[{"_type":"model.dotcomrendering.pageElements.TextBlockElement","html":"

Both teams are unchanged, which makes my job cut-and-pastingly easy.

","elementId":"0e82861f-2c3a-49c9-9200-016aff13986c"},{"_type":"model.dotcomrendering.pageElements.TextBlockElement","html":"

England Roy, Buttler (c/wk), Malan, Bairstow, Ali, Livingstone, Curran, Jordan, Rashid, Topley, Gleeson.

","elementId":"70c21cd9-aa9a-41f3-b529-0870148f4900″},{"_type":"model.dotcomrendering.pageElements.TextBlockElement","html":"

South Africa de Kock (wk), Hendricks, Rossouw, Klaasen, Miller (c), Stubbs, Phehlukwayo, Rabada, Maharaj, Ngidi, Shamsi.

","elementId":"8daddb0e-84c7-44b8-bf43-c93850508771″}],"attributes":{"pinned":false,"keyEvent":true,"abstract":false},"blockCreatedOn":1659027736000,"blockCreatedOnDisplay":"18.02 BST","blockLastUpdated":1659027804000,"blockLastUpdatedDisplay":"18.03 BST","blockFirstPublished":1659027804000,"blockFirstPublishedDisplay":"18.03 BST","blockFirstPublishedDisplayNoTimezone":"18.03″,"title":"Group information","contributors":[],"primaryDateLine":"Thu 28 Jul 2022 19.22 BST","secondaryDateLine":"First printed on Thu 28 Jul 2022 17.59 BST"},{"id":"62e2c0e08f08730a1f7f30ba","parts":[{"_type":"model.dotcomrendering.pageElements.TextBlockElement","html":"

And England will bowl first. That's the first toss Buttler has won in eight games.

","elementId":"1b58b9d6-0313-4987-9090-ab935fa33ebb"},{"_type":"model.dotcomrendering.pageElements.ImageBlockElement","media":{"allImages":[{"index":0,"fields":{"height":"2877″,"width":"4794″},"mediaType":"Image","mimeType":"image/jpeg","url":"https://media.guim.co.uk/5ed787ba32719d1d2340b17912b9ae4415c67bf0/0_60_4794_2877/4794.jpg"},{"index":1,"fields":{"isMaster":"true","height":"2877″,"width":"4794″},"mediaType":"Image","mimeType":"image/jpeg","url":"https://media.guim.co.uk/5ed787ba32719d1d2340b17912b9ae4415c67bf0/0_60_4794_2877/master/4794.jpg"},{"index":2,"fields":{"height":"1200″,"width":"2000″},"mediaType":"Image","mimeType":"image/jpeg","url":"https://media.guim.co.uk/5ed787ba32719d1d2340b17912b9ae4415c67bf0/0_60_4794_2877/2000.jpg"},{"index":3,"fields":{"height":"600″,"width":"1000″},"mediaType":"Image","mimeType":"image/jpeg","url":"https://media.guim.co.uk/5ed787ba32719d1d2340b17912b9ae4415c67bf0/0_60_4794_2877/1000.jpg"},{"index":4,"fields":{"height":"300″,"width":"500″},"mediaType":"Image","mimeType":"image/jpeg","url":"https://media.guim.co.uk/5ed787ba32719d1d2340b17912b9ae4415c67bf0/0_60_4794_2877/500.jpg"},{"index":5,"fields":{"height":"84″,"width":"140″},"mediaType":"Image","mimeType":"image/jpeg","url":"https://media.guim.co.uk/5ed787ba32719d1d2340b17912b9ae4415c67bf0/0_60_4794_2877/140.jpg"}]},"knowledge":{"alt":"Jos Buttler wins the toss and places South Africa in to bat.","caption":"Jos Buttler wins the toss and places South Africa in to bat.","credit score":"{Photograph}: Stu Forster/Getty Photos"},"displayCredit":true,"function":"inline","imageSources":[{"weighting":"inline","srcSet":[{"src":"https://i.guim.co.uk/img/media/5ed787ba32719d1d2340b17912b9ae4415c67bf0/0_60_4794_2877/master/4794.jpg?width=620&quality=85&auto=format&fit=max&s=4792044cf93c0a881303094139a34b35″,"width":620},{"src":"https://i.guim.co.uk/img/media/5ed787ba32719d1d2340b17912b9ae4415c67bf0/0_60_4794_2877/master/4794.jpg?width=620&quality=45&auto=format&fit=max&dpr=2&s=2b5c8c579cf30773c42a5a9a8ec514e8″,"width":1240},{"src":"https://i.guim.co.uk/img/media/5ed787ba32719d1d2340b17912b9ae4415c67bf0/0_60_4794_2877/master/4794.jpg?width=605&quality=85&auto=format&fit=max&s=c616cbe84ebffff61f61b64311b5ca6a","width":605},{"src":"https://i.guim.co.uk/img/media/5ed787ba32719d1d2340b17912b9ae4415c67bf0/0_60_4794_2877/master/4794.jpg?width=605&quality=45&auto=format&fit=max&dpr=2&s=776476801bbd20be3101932cef17060b","width":1210},{"src":"https://i.guim.co.uk/img/media/5ed787ba32719d1d2340b17912b9ae4415c67bf0/0_60_4794_2877/master/4794.jpg?width=445&quality=85&auto=format&fit=max&s=c85a7cfeecec8f36aec05438fd40cb11″,"width":445},{"src":"https://i.guim.co.uk/img/media/5ed787ba32719d1d2340b17912b9ae4415c67bf0/0_60_4794_2877/master/4794.jpg?width=445&quality=45&auto=format&fit=max&dpr=2&s=30f1235b8598148aaabbaf40e5ec4f09″,"width":890}]},{"weighting":"thumbnail","srcSet":[{"src":"https://i.guim.co.uk/img/media/5ed787ba32719d1d2340b17912b9ae4415c67bf0/0_60_4794_2877/master/4794.jpg?width=140&quality=85&auto=format&fit=max&s=4e6baaf4e21a0e09c484de9d23160caf","width":140},{"src":"https://i.guim.co.uk/img/media/5ed787ba32719d1d2340b17912b9ae4415c67bf0/0_60_4794_2877/master/4794.jpg?width=140&quality=45&auto=format&fit=max&dpr=2&s=c8d4b569fec3290379cd5eb2f35645d0″,"width":280},{"src":"https://i.guim.co.uk/img/media/5ed787ba32719d1d2340b17912b9ae4415c67bf0/0_60_4794_2877/master/4794.jpg?width=120&quality=85&auto=format&fit=max&s=c6d2e504b48231bdeb4594e1eb879767″,"width":120},{"src":"https://i.guim.co.uk/img/media/5ed787ba32719d1d2340b17912b9ae4415c67bf0/0_60_4794_2877/master/4794.jpg?width=120&quality=45&auto=format&fit=max&dpr=2&s=9aaa7f490fbeffb15fb7de63a063227b","width":240}]},{"weighting":"supporting","srcSet":[{"src":"https://i.guim.co.uk/img/media/5ed787ba32719d1d2340b17912b9ae4415c67bf0/0_60_4794_2877/master/4794.jpg?width=380&quality=85&auto=format&fit=max&s=8902c9fde18b357186fe4216b6e9d444″,"width":380},{"src":"https://i.guim.co.uk/img/media/5ed787ba32719d1d2340b17912b9ae4415c67bf0/0_60_4794_2877/master/4794.jpg?width=380&quality=45&auto=format&fit=max&dpr=2&s=d014ed693ec4ef86b88561c024dd42c2″,"width":760},{"src":"https://i.guim.co.uk/img/media/5ed787ba32719d1d2340b17912b9ae4415c67bf0/0_60_4794_2877/master/4794.jpg?width=300&quality=85&auto=format&fit=max&s=a1fb4bcf33a875dd8ba73fc03dcbf145″,"width":300},{"src":"https://i.guim.co.uk/img/media/5ed787ba32719d1d2340b17912b9ae4415c67bf0/0_60_4794_2877/master/4794.jpg?width=300&quality=45&auto=format&fit=max&dpr=2&s=3ba749e2c6d9c9c25479078e7d9ab765″,"width":600},{"src":"https://i.guim.co.uk/img/media/5ed787ba32719d1d2340b17912b9ae4415c67bf0/0_60_4794_2877/master/4794.jpg?width=620&quality=85&auto=format&fit=max&s=4792044cf93c0a881303094139a34b35″,"width":620},{"src":"https://i.guim.co.uk/img/media/5ed787ba32719d1d2340b17912b9ae4415c67bf0/0_60_4794_2877/master/4794.jpg?width=620&quality=45&auto=format&fit=max&dpr=2&s=2b5c8c579cf30773c42a5a9a8ec514e8″,"width":1240},{"src":"https://i.guim.co.uk/img/media/5ed787ba32719d1d2340b17912b9ae4415c67bf0/0_60_4794_2877/master/4794.jpg?width=605&quality=85&auto=format&fit=max&s=c616cbe84ebffff61f61b64311b5ca6a","width":605},{"src":"https://i.guim.co.uk/img/media/5ed787ba32719d1d2340b17912b9ae4415c67bf0/0_60_4794_2877/master/4794.jpg?width=605&quality=45&auto=format&fit=max&dpr=2&s=776476801bbd20be3101932cef17060b","width":1210},{"src":"https://i.guim.co.uk/img/media/5ed787ba32719d1d2340b17912b9ae4415c67bf0/0_60_4794_2877/master/4794.jpg?width=445&quality=85&auto=format&fit=max&s=c85a7cfeecec8f36aec05438fd40cb11″,"width":445},{"src":"https://i.guim.co.uk/img/media/5ed787ba32719d1d2340b17912b9ae4415c67bf0/0_60_4794_2877/master/4794.jpg?width=445&quality=45&auto=format&fit=max&dpr=2&s=30f1235b8598148aaabbaf40e5ec4f09″,"width":890}]},{"weighting":"showcase","srcSet":[{"src":"https://i.guim.co.uk/img/media/5ed787ba32719d1d2340b17912b9ae4415c67bf0/0_60_4794_2877/master/4794.jpg?width=860&quality=85&auto=format&fit=max&s=c7be68925692bdfcde97e3f2a2f6572b","width":860},{"src":"https://i.guim.co.uk/img/media/5ed787ba32719d1d2340b17912b9ae4415c67bf0/0_60_4794_2877/master/4794.jpg?width=860&quality=45&auto=format&fit=max&dpr=2&s=50af2e6d3c5d17ba396883bb765338ac","width":1720},{"src":"https://i.guim.co.uk/img/media/5ed787ba32719d1d2340b17912b9ae4415c67bf0/0_60_4794_2877/master/4794.jpg?width=780&quality=85&auto=format&fit=max&s=a8571197987f9cf24094fcc32f6bc2ef","width":780},{"src":"https://i.guim.co.uk/img/media/5ed787ba32719d1d2340b17912b9ae4415c67bf0/0_60_4794_2877/master/4794.jpg?width=780&quality=45&auto=format&fit=max&dpr=2&s=8ebc09acff7f70bf4dbbc4f00a2ab74a","width":1560},{"src":"https://i.guim.co.uk/img/media/5ed787ba32719d1d2340b17912b9ae4415c67bf0/0_60_4794_2877/master/4794.jpg?width=620&quality=85&auto=format&fit=max&s=4792044cf93c0a881303094139a34b35″,"width":620},{"src":"https://i.guim.co.uk/img/media/5ed787ba32719d1d2340b17912b9ae4415c67bf0/0_60_4794_2877/master/4794.jpg?width=620&quality=45&auto=format&fit=max&dpr=2&s=2b5c8c579cf30773c42a5a9a8ec514e8″,"width":1240},{"src":"https://i.guim.co.uk/img/media/5ed787ba32719d1d2340b17912b9ae4415c67bf0/0_60_4794_2877/master/4794.jpg?width=605&quality=85&auto=format&fit=max&s=c616cbe84ebffff61f61b64311b5ca6a","width":605},{"src":"https://i.guim.co.uk/img/media/5ed787ba32719d1d2340b17912b9ae4415c67bf0/0_60_4794_2877/master/4794.jpg?width=605&quality=45&auto=format&fit=max&dpr=2&s=776476801bbd20be3101932cef17060b","width":1210},{"src":"https://i.guim.co.uk/img/media/5ed787ba32719d1d2340b17912b9ae4415c67bf0/0_60_4794_2877/master/4794.jpg?width=445&quality=85&auto=format&fit=max&s=c85a7cfeecec8f36aec05438fd40cb11″,"width":445},{"src":"https://i.guim.co.uk/img/media/5ed787ba32719d1d2340b17912b9ae4415c67bf0/0_60_4794_2877/master/4794.jpg?width=445&quality=45&auto=format&fit=max&dpr=2&s=30f1235b8598148aaabbaf40e5ec4f09″,"width":890}]},{"weighting":"halfwidth","srcSet":[{"src":"https://i.guim.co.uk/img/media/5ed787ba32719d1d2340b17912b9ae4415c67bf0/0_60_4794_2877/master/4794.jpg?width=620&quality=85&auto=format&fit=max&s=4792044cf93c0a881303094139a34b35″,"width":620},{"src":"https://i.guim.co.uk/img/media/5ed787ba32719d1d2340b17912b9ae4415c67bf0/0_60_4794_2877/master/4794.jpg?width=620&quality=45&auto=format&fit=max&dpr=2&s=2b5c8c579cf30773c42a5a9a8ec514e8″,"width":1240},{"src":"https://i.guim.co.uk/img/media/5ed787ba32719d1d2340b17912b9ae4415c67bf0/0_60_4794_2877/master/4794.jpg?width=605&quality=85&auto=format&fit=max&s=c616cbe84ebffff61f61b64311b5ca6a","width":605},{"src":"https://i.guim.co.uk/img/media/5ed787ba32719d1d2340b17912b9ae4415c67bf0/0_60_4794_2877/master/4794.jpg?width=605&quality=45&auto=format&fit=max&dpr=2&s=776476801bbd20be3101932cef17060b","width":1210},{"src":"https://i.guim.co.uk/img/media/5ed787ba32719d1d2340b17912b9ae4415c67bf0/0_60_4794_2877/master/4794.jpg?width=445&quality=85&auto=format&fit=max&s=c85a7cfeecec8f36aec05438fd40cb11″,"width":445},{"src":"https://i.guim.co.uk/img/media/5ed787ba32719d1d2340b17912b9ae4415c67bf0/0_60_4794_2877/master/4794.jpg?width=445&quality=45&auto=format&fit=max&dpr=2&s=30f1235b8598148aaabbaf40e5ec4f09″,"width":890}]},{"weighting":"immersive","srcSet":[{"src":"https://i.guim.co.uk/img/media/5ed787ba32719d1d2340b17912b9ae4415c67bf0/0_60_4794_2877/master/4794.jpg?width=1900&quality=85&auto=format&fit=max&s=400d2028ed697444eb20b59f1022914c","width":1900},{"src":"https://i.guim.co.uk/img/media/5ed787ba32719d1d2340b17912b9ae4415c67bf0/0_60_4794_2877/master/4794.jpg?width=1900&quality=45&auto=format&fit=max&dpr=2&s=4956644240eab14a9a4659bf7dbf04f6″,"width":3800},{"src":"https://i.guim.co.uk/img/media/5ed787ba32719d1d2340b17912b9ae4415c67bf0/0_60_4794_2877/master/4794.jpg?width=1300&quality=85&auto=format&fit=max&s=975104f03ef1c62a5165c966ae458a66″,"width":1300},{"src":"https://i.guim.co.uk/img/media/5ed787ba32719d1d2340b17912b9ae4415c67bf0/0_60_4794_2877/master/4794.jpg?width=1300&quality=45&auto=format&fit=max&dpr=2&s=7b118c333a67a91a5f3aba93d8d36478″,"width":2600},{"src":"https://i.guim.co.uk/img/media/5ed787ba32719d1d2340b17912b9ae4415c67bf0/0_60_4794_2877/master/4794.jpg?width=1140&quality=85&auto=format&fit=max&s=ae5c0e05f9c1da05950731a4eb265aa9″,"width":1140},{"src":"https://i.guim.co.uk/img/media/5ed787ba32719d1d2340b17912b9ae4415c67bf0/0_60_4794_2877/master/4794.jpg?width=1140&quality=45&auto=format&fit=max&dpr=2&s=bd02388dc538c4ada2edf7cace49c372″,"width":2280},{"src":"https://i.guim.co.uk/img/media/5ed787ba32719d1d2340b17912b9ae4415c67bf0/0_60_4794_2877/master/4794.jpg?width=980&quality=85&auto=format&fit=max&s=9f85f31eea4f9db302091f26fd1fabc6″,"width":980},{"src":"https://i.guim.co.uk/img/media/5ed787ba32719d1d2340b17912b9ae4415c67bf0/0_60_4794_2877/master/4794.jpg?width=980&quality=45&auto=format&fit=max&dpr=2&s=fb11cb304f312b1851fde3d2dc4f5996″,"width":1960},{"src":"https://i.guim.co.uk/img/media/5ed787ba32719d1d2340b17912b9ae4415c67bf0/0_60_4794_2877/master/4794.jpg?width=740&quality=85&auto=format&fit=max&s=f85dd1aecc21dc446c9819edd9db78af","width":740},{"src":"https://i.guim.co.uk/img/media/5ed787ba32719d1d2340b17912b9ae4415c67bf0/0_60_4794_2877/master/4794.jpg?width=740&quality=45&auto=format&fit=max&dpr=2&s=ba429ed9ca7412f1d9c82a45ddc57754″,"width":1480},{"src":"https://i.guim.co.uk/img/media/5ed787ba32719d1d2340b17912b9ae4415c67bf0/0_60_4794_2877/master/4794.jpg?width=660&quality=85&auto=format&fit=max&s=18149b9e506ce613df1770265cf1ee98″,"width":660},{"src":"https://i.guim.co.uk/img/media/5ed787ba32719d1d2340b17912b9ae4415c67bf0/0_60_4794_2877/master/4794.jpg?width=660&quality=45&auto=format&fit=max&dpr=2&s=0a3cfa4cbf755296b3a93c1d791fd743″,"width":1320},{"src":"https://i.guim.co.uk/img/media/5ed787ba32719d1d2340b17912b9ae4415c67bf0/0_60_4794_2877/master/4794.jpg?width=480&quality=85&auto=format&fit=max&s=76183624e4005a22700ed8c53ae8b145″,"width":480},{"src":"https://i.guim.co.uk/img/media/5ed787ba32719d1d2340b17912b9ae4415c67bf0/0_60_4794_2877/master/4794.jpg?width=480&quality=45&auto=format&fit=max&dpr=2&s=21703a5c3eeecf48e2fc8cb10244896b","width":960}]}],"elementId":"aab96b59-0d42-495a-ab26-5b1347f4a6cc"}],"attributes":{"pinned":false,"keyEvent":true,"abstract":false},"blockCreatedOn":1659027680000,"blockCreatedOnDisplay":"18.01 BST","blockLastUpdated":1659028605000,"blockLastUpdatedDisplay":"18.16 BST","blockFirstPublished":1659027693000,"blockFirstPublishedDisplay":"18.01 BST","blockFirstPublishedDisplayNoTimezone":"18.01″,"title":"Jos Buttler has received a toss!","contributors":[],"primaryDateLine":"Thu 28 Jul 2022 19.22 BST","secondaryDateLine":"First printed on Thu 28 Jul 2022 17.59 BST"},{"id":"62e296ed8f08dfdbf08d1938″,"parts":[{"_type":"model.dotcomrendering.pageElements.TextBlockElement","html":"

The first T2o international in England was played at Southampton on 13 June 2005, a joyous pre-Ashes occasion in which England hammered Australia and Darren Gough spurned the chance of a hat-trick so that he could snarl at Andrew Symonds. In that game there were precisely three sixes, one by Kevin Pietersen and two by Paul Collingwood.

","elementId":"64d3ad98-3ab1-480b-bfb9-ba869ce44b10″},{"_type":"model.dotcomrendering.pageElements.TextBlockElement","html":"

Things escalated quickly. Two years later there were 14 in a game against West Indies, and that was without Chris Gayle hitting any. The record for most sixes in a T20I in England kept rising: 23 v Australia in 2013, 27 v Pakistan last year and then, last night, 29 against South Africa.

","elementId":"31bc830c-ff90-41a2-aa91-dbb666637d80″},{"_type":"model.dotcomrendering.pageElements.TextBlockElement","html":"

Tonight, we should expect another orgy of six-hitting in Cardiff. The boundaries are short, especially straight, and a number of batters got their eye in last night. They might not break the record, but they'll give it a good crack.

","elementId":"adeb673c-ba8a-464f-8639-ed712650daaf"}],"attributes":{"pinned":false,"keyEvent":true,"abstract":false},"blockCreatedOn":1659027584000,"blockCreatedOnDisplay":"17.59 BST","blockLastUpdated":1659027730000,"blockLastUpdatedDisplay":"18.02 BST","blockFirstPublished":1659027584000,"blockFirstPublishedDisplay":"17.59 BST","blockFirstPublishedDisplayNoTimezone":"17.59″,"title":"Preamble","contributors":[],"primaryDateLine":"Thu 28 Jul 2022 19.22 BST","secondaryDateLine":"First printed on Thu 28 Jul 2022 17.59 BST"}],"filterKeyEvents":false,"format":{"show":0,"theme":2,"design":9},"id":"key-events-carousel-mobile"}">

Necessary occasions
WICKET! South Africa 112-2 (Hendricks c Bairstow b Gleeson 53)
What a superb catch from Jonny Bairstow! Hendricks edged Gleeson in direction of deep sq., the place Bairstow took a really tight two-handed grip on his shoulder. and He made positive he did not overbalance and contact the sponge till. That was immaculately judged.
eleventh over: South Africa 109-1 (Hendricks 52, Rossouw 37) Hendricks stomps Curran along with his good leg, the place Gleeson lands a nasty two-hander to his proper. He nonetheless needed to take it, however it wasn't a sitter.
Earlier, Hendricks reached one other magnificent fifty, this one off 29 balls.
tenth over: South Africa 100-1 (Hendricks 44, Rossouw 37) Jos Buttler turns to Chris Jordan, who bowled nicely final night time. There's little controversy when Rossouw survived a background checks after gloving a brief ball down the leg aspect. Buttler thought he took it cleanly over the bottom; Third umpire Alex Wharf disagreed.
Early within the over, Rossouw put the products in a row over long-on for a 4 and a six. He has 37 from 24 balls, Hendricks 44 from 25.
ninth over: South Africa 87-1 (Hendricks 42, Rossouw 26) A large supply from Rashid is shocked further cowl for 4 by Hendricks, who bowls with confidence and confidence. Rossouw then swishes a large six for a very long time, into the River Taff, and there are 13 from above. I really feel like I've mentioned that just a few occasions already tonight.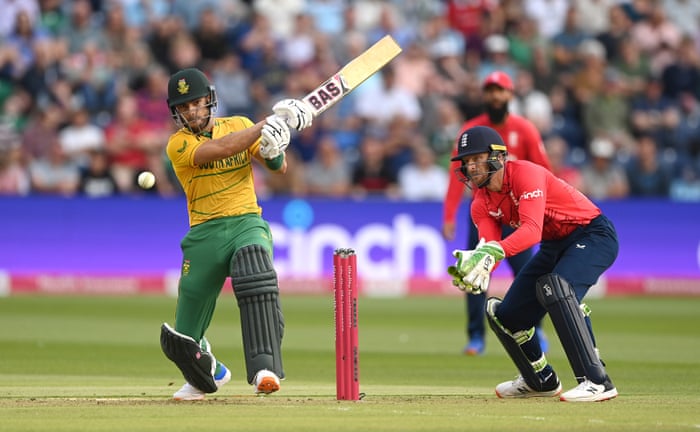 eighth over: South Africa 74-1 (Hendricks 36, Rossouw 19) It looks like one other 200+ evenings. Hendricks prices Moeen and drives one other automobile six in the course of the break; within the two matches of Bristol and Cardiff he has made 93 from 53 balls.
seventh over: South Africa 65-1 (Hendricks 28, Rossouw 18) Adil Rashid often comes straight after the Powerplay and as we speak isn't any exception. He beats the left-handed Rossouw with a candy googly, although that is the one dot ball within the over: 4×1, 1×3.
sixth over: South Africa 58-1 (Hendricks 23, Rossouw 16) Speedy Ricky Gleeson is available in for Moeen, and he quickly provides Rossouw a rush with a pointy, quick supply. Rossouw responds by utilizing the tempo to assist ship the leg stump into the nook six. A clear cowl drive for 4 makes it 13 from the over.
fifth over: South Africa 45-1 (Hendricks 22, Rossouw 5) Outdoors leg stump from Topley is edged for 4 by Rossouw, although the subsequent ball is a snort that goes over the sting. Topley has good jaffa proportions.
In actual fact, the primary supply apart that was worse from Topley, and a leg bye from the final 5 balls.
4th over: South Africa 40-1 (Hendricks 20, Rossouw 1)
WICKET! South Africa 39-1 (de Kock c Roy b Ali 15)
Sound the klaxon of the match. Jos Buttler brings Moeen Ali ahead as he focuses on Quinton de Kock's left arm, and de Kock hits the fifth ball to mid-on.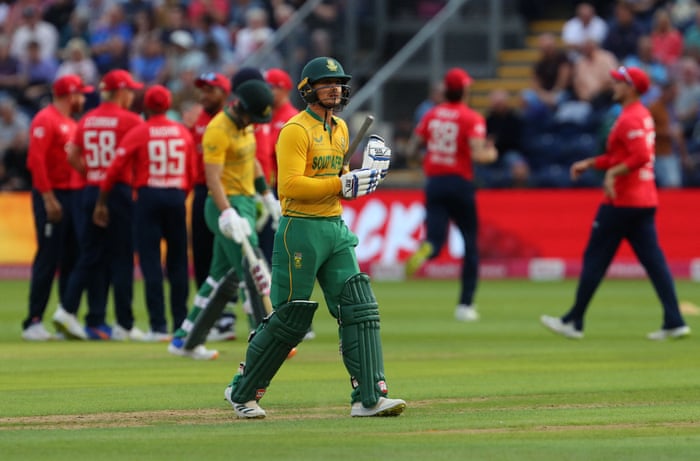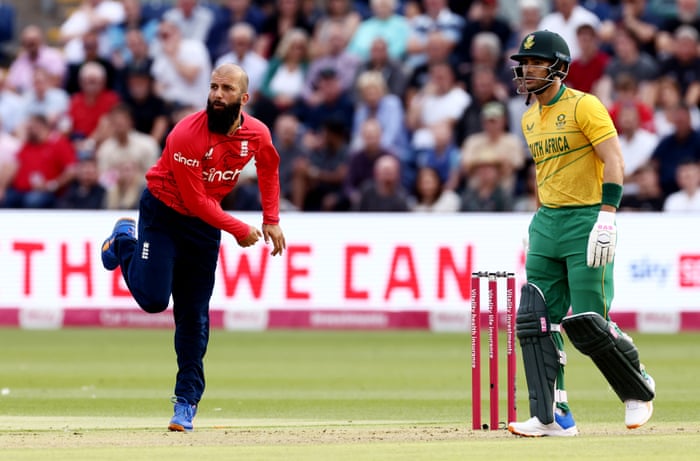 third place: South Africa 32-0 (de Kock 14, Hendricks 16) There's a first six, gracefully pulled over sq. leg by Hendricks from Curran. The subsequent ball goes for a 4 as nicely, curling simply to advantageous leg.
I am already beginning to really feel a little bit drunk, making an attempt to clarify all these boundaries, so the frick is aware of what it's to be a bowler. 13 from the highest of Curran's second.
Runners-up: South Africa 19-0 (de Kock 13, Hendricks 4) Reece Topley shares the brand new ball. He's having a fantastic summer time, with 19 wickets in 16 in each white-ball codecs, and has leapfrogged the queue for a spot within the beginning XI on the World T20.
His debut right here is not a lot better. There are a few vast boundaries after which a sequence for de Kock, launched effortlessly over midwicket and canopy. Fourteen from the tip.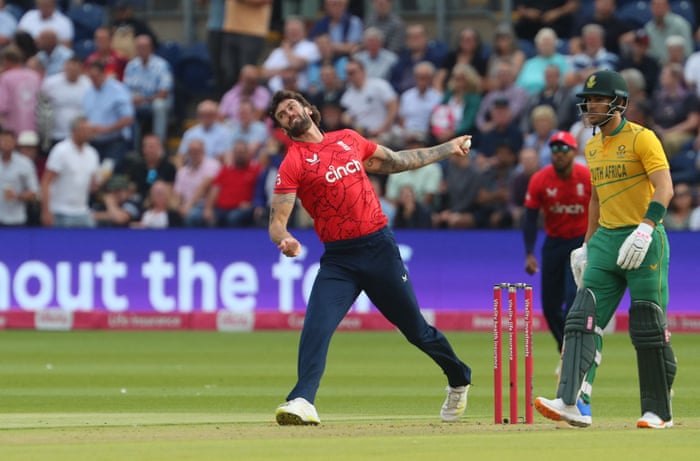 1st place: South Africa 5-0 (de Kock 2, Hendricks 3) Curran steps ahead with that acquainted cartoonish joke. There's a trace of swing – maybe an excuse, nothing greater than that – and the South African openers resolve to take a look at just a few merchandise. Three singles, one double and a pleasant ultimate supply from Curran that beats Hendricks.
Effectively, the gamers are preparedthe solar is out, and Sam Curran has a white ball in his hand.
Ward Championship
The highest three groups in Division One have all received, which implies Surrey are nonetheless answerable for the title race. Emma John was on the Oval to look at them beat champions Warwickshire in an exciting recreation.
Right here is Simon Burnton's report from final night time
Each groups haven't modified, which makes my job simpler and simpler.
England Roy, Buttler (c/wk), Malan, Bairstow, Ali, Livingstone, Curran, Jordan, Rashid, Topley, Gleeson.
South Africa de Kock (wk), Hendricks, Rossouw, Klaasen, Miller (c), Stubbs, Phehlukwayo, Rabada, Maharaj, Ngidi, Shamsi.
Jos Buttler has received the toss!
And England will play first. That is the primary time Buttler received in eight matches.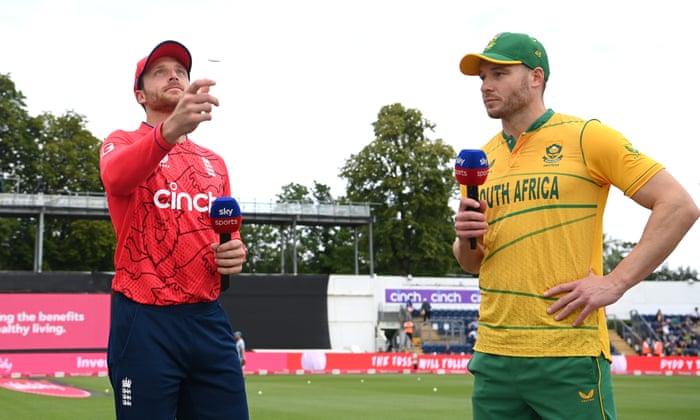 England's first T2o worldwide was performed in Southampton on 13 June 2005, a pre-Ashes celebration the place England beat Australia and Darren Gough spurned a hat-trick probability to bowl Andrew Symonds. In that recreation there have been six sixes, one by Kevin Pietersen and two by Paul Collingwood.
Issues escalated rapidly. Two years later there have been 14 in a recreation in opposition to the West Indies, and that was with out Chris Gayle hitting any. England's report sixth most in T20Is continued to rise: 23 v Australia in 2013, 27 v Pakistan final yr after which, final night time, 29 v South Africa.
Tonight, let's anticipate one other six-hit joke in Cardiff. The boundaries are quick, principally straight, and a lot of batsmen caught their eye final night time. They might not break the report, however they may give it a great shot.